Cultivating language, community and culture
The Six Rivers Fund helps support the gathering of the Woodland Cree in Montreal Lake
JUL 29, 2016
"It's rewarding to see the youth taking part."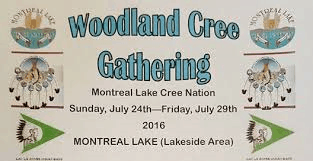 The Woodland Cree in northern Saskatchewan gather each summer to celebrate their strong language, promote traditional culture and bring their communities together to discuss how they can work together.
In July they met for five, mostly sunny, days in Montreal Lake. Roger Bird, a band councillor for Montreal Lake Cree Nation, was one of the organizing hosts. It was no small job, with between 500 and 700 people attending each day.
"All of our meals were offered free of charge," says Bird. "So a great deal of the support we received went towards covering the costs of the food and helping with site preparation. It felt good to be able to feed our guests."
Participants were treated to many traditional foods including moose, elk, and smoked fish.
Elders shared stories and their knowledge of herbal medicine. Bird says many feel the medicines could be more widely used, and as gift people were given some to take home.
Young people were by far the most represented at the gathering.
"It's rewarding to see the youth taking part. One of the major highlights for them was watching one of the elders make canoe paddles, and learning how quickly it can be done."
The Woodland Crees in Saskatchewan are comprised of members of the Lac La Ronge Cree Nation, the Montreal Lake Cree Nation and the Peter Ballantyne Cree Nation. The bands take turns hosting the popular event each year.
Want to help support your community?