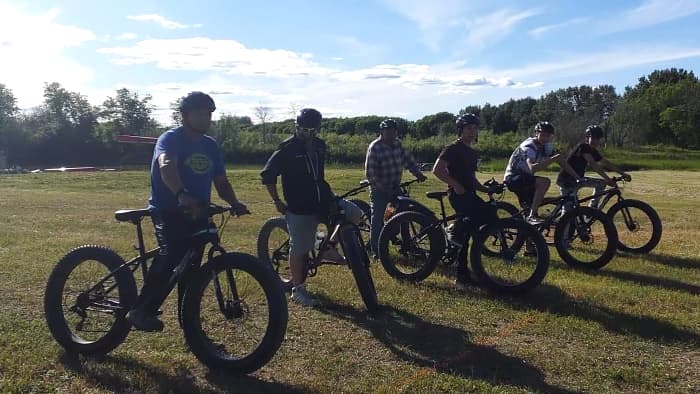 Fat tire bikes make trails accessible at Cumberland House
Besides the odd mama bear keeping people off the trails at times near Cumberland House in northeast Saskatchewan, not much else does. Bill Thomas, the village's Recreation Director, wants to keep it that way. This past spring, he applied for funding from the Six Rivers Fund to purchase ten fat tire bikes to make hitting the trails more enticing.
"A lot of older adults feel more secure on fat tire bikes than they do on mountain bikes," says Thomas. "With the gravel roads and bumpy terrain, they are much more comfortable and easier to ride."
Since the bikes arrived in the community, they have been such a hit that the local school purchased an additional ten bikes. As the school and the recreation centre share equipment, more people can get out together.
Activities that bring people together year-round are a priority for Cumberland House. In addition to the fat tire bikes, the community also purchased bike trailers so that adults can take little ones out on the trails and paths. Over the past few weeks, Thomas spent a lot of time cutting trails to prepare for winter rides. He says it's all to bolster health and give community members a sense of belonging. "I try to find things that encourage movement and healthy living as an antidote to diabetes and isolation," Thomas explains. "It's been a great way to get kids out of the basement and into the environment."
Thomson hopes more communities will apply for funding for community projects that focus on youth, education, sports, recreation and health and wellness. The application process for the Six Rivers Fund is open now, with the next adjudication of funding scheduled for November 30.
Want to help support your community?