Wapawikoscikan Community School – Pelican Narrows – Square Dancers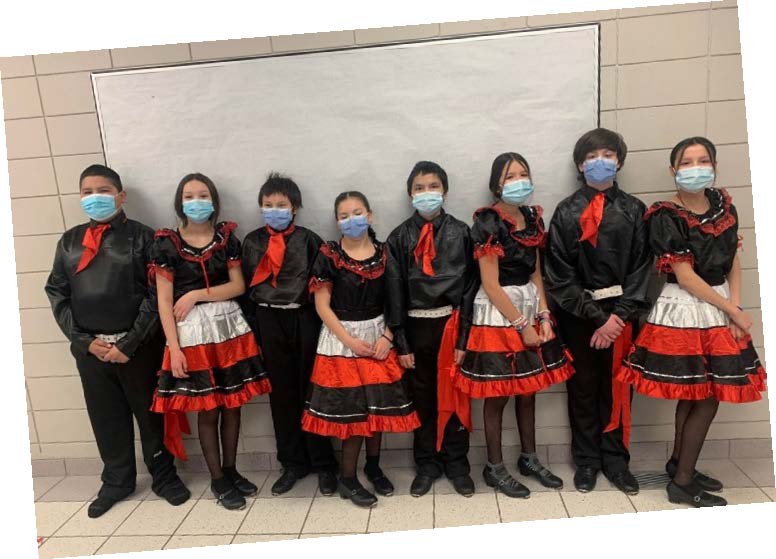 New outfits boost confidence and pride for Pelican Narrows square-dancers
The kids at Wapawikoscikan Community School in Pelican Narrows are no strangers to performing in front of community members, family and friends, but being able to do so in brand new outfits has brought new life to the group. "They're giving it more than they ever did before. They're putting more effort into their dance." Says says Clorice Merasty, Holistic Guidance Counsellor, Wapawikoscikan Community School.  
The pre-teen and teenage dancers travel across northern communities and throughout Saskatchewan to share their talents at various community events and celebrations. Dancing alongside family and friends strengthens their connection to their community and bolsters a sense of pride as they share their culture with others.
"I know that dancing impacts the kids in a positive way. Especially the kids who are high risk and exposed to drugs and alcohol. They have mentioned that because of being involved in dancing, they are living their lives in a positive way and staying away from negative influences. They feel that they belong when they're dancing." says Merasty.
While the new outfits are having a positive impact on the dancers, community members also beam with pride. "Family members, friends, and neighbours all come out to watch the dancers perform whenever they can. Seeing their kids dance, they feel proud. It also inspires the younger kids to join the dancers when they are old enough. It has created a sense of pride for everyone. It is positive and we are so thankful for the funding." says Merasty. 
Of the remaining funds, the Wapawikoscikan Community School square dancers plan to update the remaining girls' outfits, so that everyone has the same opportunity to perform while being confident in how they look.  
Want to help support your community?